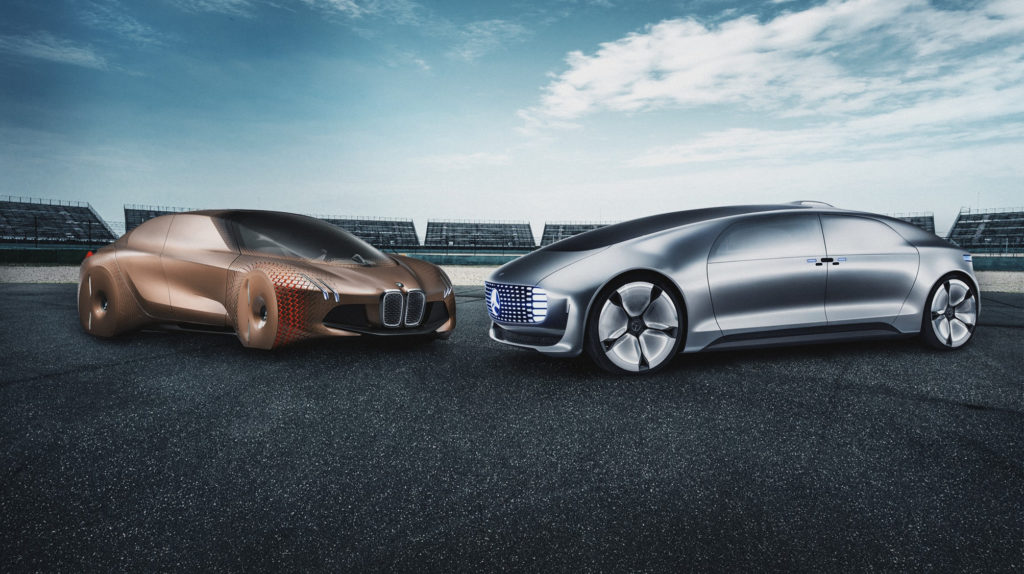 The BMW Group and Daimler AG (parent company of Mercedes Benz) have signed a Memorandum of Understanding to jointly develop next-generation technologies for driver assistance systems, automated driving on highways, and parking features. The partnership is viewed by the BMW Group and Daimler AG as a long-term, strategic cooperation to make next-level technologies widely available by mid-2020s.
The BMW Group has been working on highly automated driving since 2006, and has established a non-exclusive platform with technology specialists, suppliers and OEMs to take it to series maturity. Daimler AG has been working on series development projects not only for specific Level 3 vehicles but also for Levels 4 and 5. Long a leader in active safety systems, it programmed its systems largely in-house right from the very beginning. By joining forces, the two technology leaders intend to not only carry out joint development work via a scalable architecture covering several stages of automation, but to also discuss the possibility of extending their collaboration to cover higher levels of automation, both on highways and in urban areas.
As we continue to pursue our strategy, we are combining the expertise of two technology leaders. At the BMW Group, long-term partnerships within a flexible, scalable, non-exclusive platform are fundamental to advancing the industrialisation of autonomous driving. Combining the key expertise of our two companies will boost our innovative strength and speed up the spread of this technology.
The planned cooperation positions the BMW Group and Daimler AG to quickly become pace-setters in autonomous driving technologies with a number of obvious advantages: the skills and experience of both companies and a scalable architecture will allow for synergistic technology development, shorter innovation cycles, and faster releases of new technologies to the market. The BMW Group and Daimler AG will also explore additional partnerships with other technology companies and automotive manufacturers that could contribute to the success of the platform.
Autonomous driving is one of the most revolutionary trends for us at the moment, and the entire Daimler Group is working very hard on it. As always at Daimler, our top priority is safety. Instead of individual, stand-alone solutions, we want to develop a reliable overall system that offers noticeable added-value for customers. Working with the right partners, we want to make significant advances in enhancing the performance of this technology and bring it safely on the road.
Read the Complete Press Release in the BMW Group Press Club to learn more about how two technology leaders plan to join forces.